DV2 External binary I/O module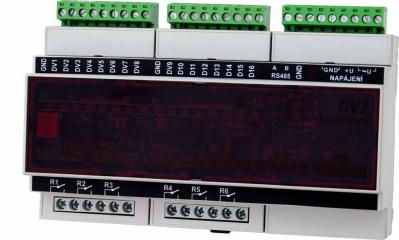 This external I/O module DV2 enlarges number of binary inputs and outputs of the unit M4016. DV2 is a combination of two older units: swithcing unit SP06 and unit of binary inputs JDV16, which producing had finished. The new unit DV2 is their full-valued successor. Two DV2 modules can be connected with one unit M4016 via serial interface RS485.
Characteristics
One unit DV2 contains 16 binary inputs which are switched against GND, 6 relay inputs with switch contacts 250V/6A, signalization of input or output switching by appropriate LED diodes which are placed under the red plastic cover, and clips for connection of communication interface. Power supply can be in a range from 12 to 24V DC.
Usage of binary inputs
Each unit DV2 contains 16 binary inputs suitable for monitoring of running and failures of engines, calculation of operating hours, etc. Inputs have same parameters as the unit M4016 has on its connecting board. However, DV2 inputs are not pulse inputs - so there is no possibility to connect output from pulse water meter.
Swithcing conditions for 6 binary outputs
Switching conditions for all 6 relays are set in the station M4016, so there is no problem to change switching conditions via the Internet or manually switch relay in distanc via SMS message from a cell phone.Each relay can be set as limit switching, sampler, pulse relay with maximally 4 switching on and 4 switching off times per day. Nearly each request can be solved out thanks to relays which are managed in relation to the condition of binary channels and thanks to relays grouped into the logical condition.The innovation is a new direct support of pumps stand-in in a case of a failure of some of them and their regural changing.
Manual control
The unit DV2 has not its own button for relays manual switching. These can be switched only via the station M4016 with which is DV2 connected. Relays can be switched via a station keyboard ( menu Manual control/Relays), or via SMS message - if the unit M4016 has a build-in GSM module.
Mechanical design
The unit DV2 is designed for the installation on DIN rail 35mm into the distribution board. The unit DV2 has width of 9 standard modules.