MAV420 External analog output module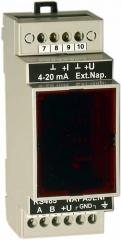 Active, galvanically separated current loop 4 -20mA
Accurate 16-bits converter
Power supply 12 - 24V DC
Light signaling of communication (external power supply and output 4-20mA)
Installation on a DIN rail 35 mm
Width - two modules
Possibility of a manual control from the unit M4016
Possibility of displaying of the voltage size on M4016 display
Control of several frequency changers and transfering of current measured values into the superior system are possible thanks to this analogue output 4-20mA.
Charakteristics
The module communicates with the unit M4016 via serial interface RS485, is controlled by microprocessor and contains active galvanically separated current loop 4-20mA which is controled by an accurate 16-bits converter.
Up to 16 modules MAV420 can be connected with one station M4016. Each module has 4 miniature binary switchers for adress selection. Parameters of the station M4016 allows to manage together several modules according to a current value of arbitrary analogue channel or to assign one output module to each adjusted channel. Each module has reserved a separate control parameters in the unit M4016.
Mechanical design
The module is designed for the installation on DIN rail 35mm and has width of 2 standard modules. The module signalizes a condition of power supply, output current loop and communication with the unit M4016 by LED diodes.
Power Supply
The power supply of MAV 420/DIN can be 12-24V DC, from the unit M4016 or from another separated external power supply.