STELA Small telemetric station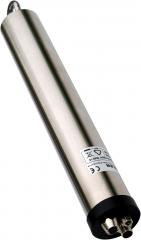 Pulse inputs for REED and OPTO flow rate sensors
Current inputs for pressure and water level sensors
RS485 or RS232 interface for intelligent devices connection
Operational time up to 8 years without battery exchange
GSM/GPRS module for data transfer into the Internet
Integrated system of warning and informative SMS messages
Low operating costs thanks to the possibility of using common credit SIM cards (0,05 EUR / day)
Modern design, economic RISC microprocessor, wide SW
Massive metal cover with high protection
Low purchace cost
STELA-I telemetric stations is suitable for data acquisition from objects with no power supply and where is no need of data transfer in intervals lower than day. After achieving of pre-set limit values, data transfers and warning SMS are activated immediately.
Typical usage of STELA-I station:
Continual monitoring of flow rates, pressures and water levels in measuring holes or in water storage tanks
Monitoring of instantaneous and minimal night flows including remote water meters reading
Undergroud water level monitoring
Open water levels and flows recording
Build-up of rainfalls measuring stations and stream gauge stations
Technology and security of buildings monitoring
STELA-I can be connected with an ultrasonic sensor for water level measurement via serial interface RS485. STELA-I has compact size and can be placed in very small spaces therby keep it out of vandals.
Mechanical design
Telemetric station STELA-I consists of a data logger, GSM/GPRS communication module and common power supply. All is placed inside one longer stainless steel cylindric holder with 50 mm diameter. STELA-I is available in 2 variants - with 2 batteries (shorter cover; voltage for sensors 7,2V) or with 4 batteries (longer cover; voltage for sensors 14,4V). The cover has a lifting eye nut for its hanging or locking. Our company standardly delivers a stainless steel holder with a mounthing box in which are sensors connected.

More variants of conectors for sensors are available. Therefore we reccomed to consult the usage of the STELA station with us, before its ordering.
Datahosting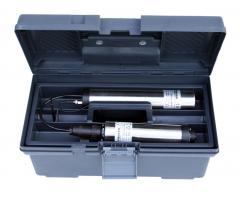 STELA station makes use of producers data hosting, which was riginally determined for more sophisticated M4016 telemetric stations. No need for the user to own server and to do operations and services.
Registered users have access to saved data on the server, via standard web browser, whenever. Except of graphical and chart visualization, the server also enables statistical calculations of balance flow rates, search out of limit values, data exports in several sizes and many other functions.


Software
Specific name, number of decimal positions for measuring and archiving, units, measuring method and many other parameters are possible to assign to each recording channels. Archivation interval is adjustable separately for each channel. After getting over set limits (limit alarm) or after quick change of values (gradient alarm), STELA-I station enables to display a more often record of selected values.
Also, the station enables to calculate instantaneous flow rates from pulses (sensors REED and OPTO), from water level according to pre-set equation and from H/Q chart. The station monitors daily and total flow from the date of installation. Calculating functions above measuring channels (total, sliding total or average, differences, trends, correction with polynom of the second number) with output into the separate channel and into SMS.
Build-in GSM/GPRS module
Provides realisation of station remote communication with the server
Transfers measured data into the serverver in pre-set intervals or in alarms
Sends warning and informative SMS messages
Very useful is a possibility to do a station parameterization and firmware upgrade via web browser
We deliver a magnetic antenna with a 5metres cable or a short mast antenna with 3metres cable.
Technical parameters

| | |
| --- | --- |
| Parameter | Value |
| Number of analogue inputs | 2 current inputs (0)4-20 mA |
| Number of pulse-binary inputs | 4 (inputs PV3 and PV4 contain HW counters) |
| Number of analogue recording channels | 16 |
| Number of binary recording channels | 40 |
| Temperature input | 1x PT1000 |
| Data memory | 2 MB (up to 450.000 values) |
| Weight | 1,3 kg (1,8 kg) |
| Working temperature | -30 °C to +65 °C |
| Batteries | Lithium, noncharging 3,6V/16Ah, 2 (4) pcs |
| Dimension | cylindric cover 50 mm x 350 mm (500 mm) |
| GSM/GPRS | 900/1800 Mhz, Class 12 (4Rx/4Tx, 5MAX) |
Small telemetric stations and data loggers