DE2 bracket of the ESKO12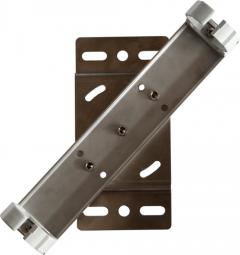 Nerezový držák pro optický tyčový snímač rozpuštěného kyslíku ESKO12. Držák lze uchytit na stěnu nebo pomocí třměnů na zábradlí aktivační nádrže.
Nastavitelný sklon tyčového snímače od 20 do 45 stupňů je důležitý pro správné měření hodnoty rozpuštěného kyslíku - po luminiscenčním terčíku měřící hlavice musejí drobné bublinky vzduchu stoupající vzhůru sklouznout a nezachytit se v ozazení tohoto měřícího terčíku (nesmí na něm vzniknou "vzduchová kapsa").
Tyčový snímač ESKO12 vložený v držáku DE2: